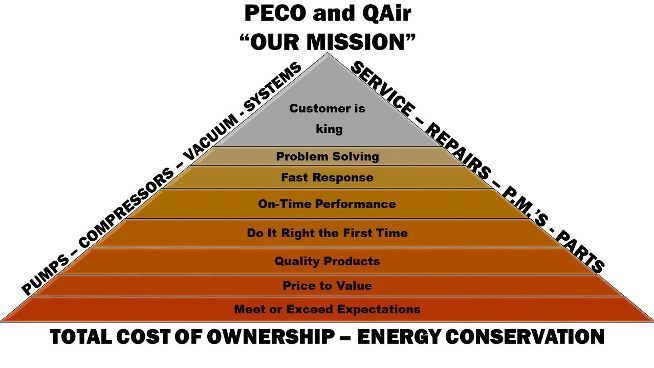 As we at Pump Engineering Company work endlessly to continue a tradition of excellence, we want to reiterate just who we are. As pump specialists in Southern California, we are proud to say we have been around for over 70 years. During the past 70 years, we have had the pleasure of building and maintaining mutually beneficial, professional, and ethical relationships with our valued associates, suppliers, and customers.
Providing complete satisfaction is our top priority and we are able to maintain our reputation via our excellent customer satisfaction ratings, our proactive behavior, quality products/personnel, and more.
Pump Engineering Company and QAir California's mission is to become the "Premier Distributor" of quality fluid and air handling products, related equipment, and value-added services. In our primary area of responsibility, within our chosen core markets and selected accounts, we are on track to doing so.
We strive to achieve Total Customer Satisfaction through, but not limited to:
Major focus on safety and compliance
Prompt, courteous and professional service
Distribution of the highest quality products
On-time delivery
Continuously expanding products and services to satisfy the ever-changing marketplace
Our primary customer base includes oil refining, oil and gas production, chemical, utilities, power generation, pulp and paper, food processing, aerospace, water reclamation and purification, engineering contractors, metals, pharmaceuticals, electronics, and general industry.
In every aspect of our business, as pump specialists in Southern California, our goal is to provide services and products at a rate of no less than 100% satisfaction. Whether you are a first time, returning, or a life-long customer,  call 800.560.7867 or visit our industrial pump technicians for prompt and courteous service.