We are the leading mission centrifugal pumps and parts distributors with vast experience and expertise in the sale, service and repair of centrifugal pumps. We provide a series of interchangeable Mission Magnum pump parts that provides a guaranteed unified quality. We offer and distribute casings (nuts, gaskets and studs), impellers, mechanical seal pumps and more.
Mission Magnum Pumps and Parts
The Magnum is designed with an open impeller containing wide-tipped vanes and a tangentially circular suction that allows the pump to produce smother flow pattern when managing abrasive fluids. The pump comes in aluminum bronze, stainless steel, hard iron, and MagnaChrome fluid ends. Due to their economical structure, Mission Magnum pumps can be unitized with diesel engines, electric motors, and all forms of hydraulic motors configurations.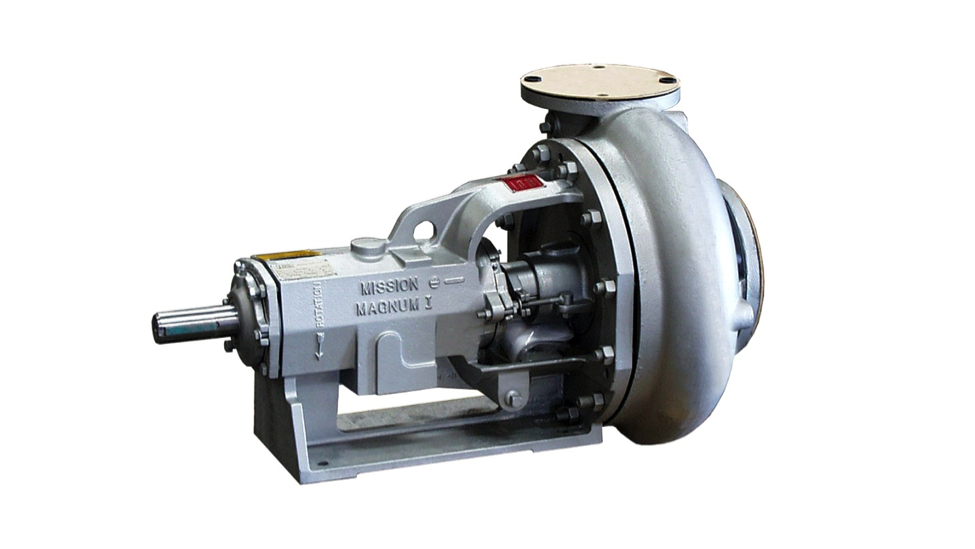 Shown is Magnum Centrifugal Pump
Benefits of Magnum Centrifugal Pumps
Magnum centrifugal pumps are equipped with wonderful features that provide invaluable benefits to the drilling industry. They include:
Receded casing casket for protection
Versatile stuffing box
No-adjustment mechanical seal with long-life that allows near zero leakage
Back vanes for a reduced collection at stuffing box
One piece casting box
Shaft sleeve that is replaceable
Stronger and thicker concentric casings
Duplex angular contact bearings
Front access drain that is easily accessible
Roller bearings of single rows for increased bearing life
Full pipe diameter for maximum efficiency and minimum turbulence
Contact us today for all your magnum centrifugal pumps and parts needs.
Have a Question?
Our pump engineering experts have been in the industry for awhile and will gladly assist you with any questions, concerns, or inquiries you may have regarding the pumps & pump parts we distribute @ 800.560.7867.