Just as the name suggests, a wet well submersible pump operates when submerged in the fluid material such as water or sewage. The motor is usually sealed hermetically and encapsulated in the pump casing to maintain proper operation even when completely submerged in the material.
However, there is another kind of submersible pump that does not need to be submerged to pump the material. Submersible dry pit pumps are usually built below ground level, but are not flooded by the material. They should be carefully placed and protected from flooding, which could damage the motor. The submersible pump is usually cooled with a cooling jacket.
Industrial Submersible Pump Maintenance and Repair Services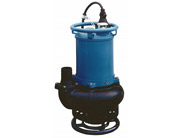 Submersible pumps are well designed to prevent the material being pumped from getting into the electric motor. The motor is placed in a water-tight compartment that is filled with oil or air.
These pumps are very common in industries because they are compact, which reduces the cost of installation. They also don't have many wearable parts like housings, bearings, and shafts, which reduces downtime associated with repair and maintenance.
That said, some basic maintenance and repair is necessary to ensure optimal performance and longevity of the pump, including:
Onsite troubleshooting
Bead blasting
Thorough cleaning of all parts and components
Full disassembly and inspection
Precise measuring and non-destructive testing
Part fabrication or rebuilding as need be
Impeller and rotor precision balancing
Application of custom impeller coatings
Motor analysis and diagnostic testing/analyzing
Use the Right Submersible Pump for Longevity
It is important to choose the right size and capacity of your industrial submersible pump for optimal performance. The ideal pump depends on:
Head condition
The required GPM discharge
Friction losses from fittings, valves, and distance
In addition to getting the right pump size, you may also choose an automated one that comes with an inbuilt float switch – and control panel for larger systems – for greater material flow control.
Pump Engineering Co. for Submersible Pumps Repair
Whether you have an emergency situation or if you have any further questions regarding our submersible pump repair and services, please contact us @ 800.560.7867 or fill out our online contact form.