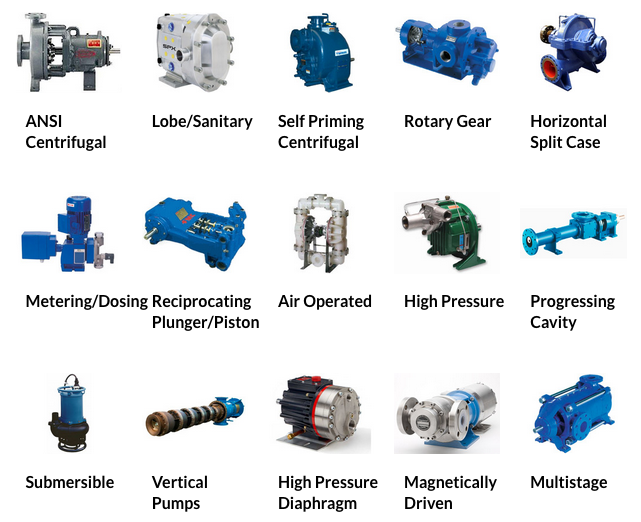 There are many types of industrial pumps offered for a variety of applications. Each type of industrial pump comes with advantages not offered by other pumps. As experts in industrial pumps and rotating equipment since 1946, we wanted to provide a quick easy-to-digest way of understanding what advantages each industrial pump possesses.
Main Benefits, Advantages, & Applications of Each Type of Industrial Pump
1. Centrifugal Pumps
The best choice for lower viscosity liquids and high flow rates.
2. ANSI Process Pumps
Incorporates dimensional standardization, which allows for the piping, foundation, and design to be completed before pump suppliers are even selected. Also features more material options than other types.
3. API Process Pumps
Meets all API 610 requirements which assures safety & reliability for high pressure, high temperature hydrocarbon applications.
4. Axial Flow Pumps
The best choice for achieving a very high flow rate with very low head.
5. Booster Pumps
Allows for the build up of additional pressure required to move liquid over long distances.
6. Piston Pumps
The best choice for applications that involve abrasive liquids.
7. Progressive Cavity Pumps
Sometimes referred to as "the pump of last resort" because it is able to handle difficult liquids that other pumps are unable to accommodate.
8. Screw Pumps
These pumps feature the highest flow rate of positive displacement pumps.
9. Gear Pumps

The best choice for clean oil applications with few moving parts & simple construction.
10. Lobe Pumps
The best choice for sanitary applications that pump viscous liquids or liquids that contain fragile solids, featuring no metal-to-metal contact within the pump.
11. Diaphragm Pumps
One of the most versatile choices handling a wide range of liquids that are sealless and can run dry without damage to the pump.
12. Vertical Sump Pumps
One of the most affordable, cost-effective sump pumps offered.
13. Vertical Turbine Pumps
The best choice for deep wells.
14. Submersible Pumps
The best choice for areas prone to flooding. Also these pumps eliminate column shaft and bearings found in column sump pumps.
15. Self-Priming Pumps
Main advantage: no need for external priming!
16. Multistage Pumps
Currently the best way to get high pressure with a centrifugal pump with lower thrust loads.
17. Magnetic Drive Pumps
No mechanical seals & are certain to be leak-free in design.
18. Horizontal Split Case Pumps
One of the least likely pumps to cavitate that features much higher flow rates than end suction pumps.
Need Help on Deciding What's Best For You?
A complete list of the industrial pump types we offer may be found here. If you need assistance deciding on what industrial pump type should be used for your business, then feel free to reach out to us @ (800) 560-7867 or contact us online.