Centrifugal pumps are the most common industrial pumps used in processing plants and municipalities to supply water or remove effluent. They have a simple design, are cost-effective, and have fewer moving parts, which reduces the need for maintenance.
Many pump breakdowns are due to simple, needless failures, like the loss of clamp load which can cause misalignment and bearing failure. Simple, basic maintenance can prevent similar avoidable failures from happening.
Industrial Centrifugal Pumps Installation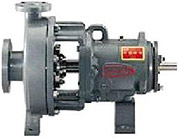 Centrifugal pumps are mostly used for applications that require high flow rates. The steady fluid delivery prevents pulsations that are common with positive displacement pumps.
When assembling your pump, there are several simple steps that can be taken to reduce the probability of common failures or to eliminate it altogether, and make future disassembly much smoother.
First, when choosing an industrial centrifugal pump, it is best that you work together with our pump repair specialists who will ensure that the installation is done correctly, and help to institute a proper maintenance program. In doing so, you can enjoy optimal performance of your equipment, prolong its life, and maximize the return on your investment.
Centrifugal Pump Repair and Maintenance
Repair is a critical component of pump maintenance. Owing to the harsh operating parameters and environment, pump parts are prone to wear, corrosion, erosion, leaks, and other kinds of damage. It is important to create a proper maintenance program, and get the right parts based on the pump brand, model, and size to restore the damaged ones.
A routine pump maintenance routine may involve the inspection of:
Oil seepage – to prevent the loss of oil
Impeller and casing wear – to rebuild worn areas and restore the impellers and pump casing
Shaft wear – to restore a worn shaft to the original condition
Corrosion – to prevent corrosive damage to external components
Keyway wallow – to repair wallowed out keyways
It is best to engage the services of a professional centrifugal pump contractor for proper repair, maintenance, and service of your industrial centrifugal pump.