There are different types and brands of centrifugal pumps on the US market, but only ANSI centrifugal pumps follow the standard dimensions as regulated by the ANSI B73.1 or ASME B73.1 standards.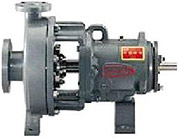 These minimum standards are imposed by two different bodies: the American National Standards Institute (ANSI) and the American Society of Mechanical Engineers (ASME), and apply to all horizontal, single-stage, and end suction pumps that are similar in size, regardless of the brand, provided that the dimensions for the envelope and interface match.
What are the ANSI B73.1 Standards?
The ASME B73.1 standards are essentially guidelines that apply to specific designs of process pumps, including single stage, end suction, centerline discharge, and horizontal.
For convenient installation and service, these pumps are designed to offer dimensional interchangeability across the range. In fact, the standard is more or less a guarantee that all ANSI-designated centrifugal pumps of a similar size have interchangeable input shafts, discharge nozzles, size and position of suction, mounting dimensions, baseplates, and foundation bolt slots.
The ASME B73.1-2012 standard is similar in that it is intended to facilitate the installation, service, and repair of horizontal end suction centrifugal pumps. However, this standard is also meant to improve the durability and safety of ANSI B73.1 centrifugal pumps.
The Allure of ANSI Centrifugal Pumps
The fact that ANSI centrifugal pumps are designed according to the same minimum standards allows users to use designated and matching pumps and brands interchangeably without being required to redesign or change the piping location, coupling, motor attachment, or even the bedplate dimensions. You should, however, keep in mind that the pumps are fabricated using different materials, including non-metals and alloys for use in corrosive applications.
There are a couple of challenges of ANSI centrifugal pumps, like the fact that they can only be used to move low viscosity liquids, meaning they're not recommended for conveying oils and other thicker liquids. Also, ANSI pumps are required to meet one standard, which can make it hard to find matching replacement parts for other types of centrifugal pumps.